Private John Lyons VC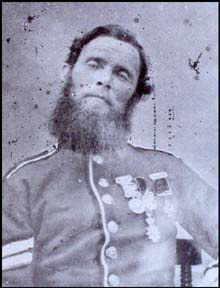 John Lyons was born in 1823 in Carlow, County Carlow in Ireland. He became a painter before he and his younger brother, Edward, enlisted on the 11th July 1842 into Her Majesty's 19th Regiment of Foot. For the next ten years, Private John Lyons served in Malta and Corfu in the Mediterranean, Barbados and St Vincent in the West Indies and Montreal and Ottawa in Canada before returning to England in 1851. For three years he served in Winchester, Weymouth and Gosport and with the Grenadier Company at the Tower of London.
With over 900 men of the 19th Foot, in eight companies, he sailed from Portsmouth in May 1854 for Varna in Bulgaria and in September for Calamita Bay, off the Crimean peninsula. With the British and French forces, he began the slow advance towards the Russian naval base at Sebastopol. He took part in the Battle of Alma on the 20th September and the Battle of Inkerman on 5th November 1854.
1651 Private John Lyons was awarded the VC for bravery in the trenches before Sebastopol on 10th June 1855. The citation reads as follows:
For conspicuous gallantry in the trenches before Sevastopol on 10 June 1855. When a live shell fell in his traverse, he ran forward, picked it up, and threw it out, - thus saving the lives of many of his comrades.

Private Lyons manhandles a live enemy shell over the parapet from one of the trenches dug towards the Russian naval base at Sebastopol, 10th June 1855.
In 1856, his Regiment returned to England and on 26th June 1857 he was one of 62 men to be decorated with the Victoria Cross in Hyde Park, London by Queen Victoria. At the end of July, he travelled with his Regiment to Bengal in India and helped suppress the Indian Mutiny. He was returned sick to England in 1861 and discharged from the army on medical grounds on 6th December 1862, aged 39 years.
He was sent to the Royal Hospital in Chelsea to convalesce for six months and was released as an out-pensioner on the 14th July 1863. He returned to Carlow in Ireland, but there is no record of the next few years of his life. He moved to Naas in County Kildare where he died on 20th April 1867 aged 44 years. There is no known memorial. His VC and medals were sold at Messrs Sotheby, Wilkinson and Hodge in London on 6th July 1897 and were purchased for £55 by Lieutenant Colonel Andrew Munro, late of the 19th Foot, who presented them to his Regiment. The VC and medals are now held in the Green Howards Regimental Museum at Richmond.