Private Samuel Evans VC
Samuel Evans was born to James and Anne Evens in Paisley, Renfrewshire, Scotland in 1821. He was apprenticed to the shawl weavers' trade. At the age of 18 years, he enlisted in Gallowgate Barracks in Glasgow on the 30th September 1839 and signed his attestation papers to serve in the 26th Regiment of Foot until legally discharged. He was given the sum of two shilling and six pence and a duplicate of the Articles of War which he had signed Samuel Evens.
1535 Private Evens joined his regiment in India in 24th October 1840 and moved on to China on 5th August 1841 to participate in the China War for which he was later awarded the 'China 1842' medal. In August 1843, the regiment returned to Edinburgh Castle and were on duty there for the next eight years. He was promoted to Corporal on the 20th July 1848, but reverted after a mere 131 days. When volunteers were invited to join the 19th Foot bound for the Kaffir Wars in South Africa, Samuel Evens, Thomas McNichol and 20 other Cameronians put their names forward. When they arrived in Devonport in February 1852 to join the 19th Foot, he was given a new regimental number 2721 and thereafter called Evans. He was promoted to Corporal in September 1853, but was reduced to the ranks as well as being placed in confinement for three days after only 111 days at that rank. The reason for his demotion is not recorded.
The declaration of war with Russia changed the Green Howards' intended move to South Africa. In 1854, Evans sailed with the 19th Foot to Varna and on to the Crimea. Private Evans fought at the Battle of Alma on 20th September 1854, was a sharpshooter on the heights of Victoria Ridge during the Battle of Inkerman on the 5th November. He then spent five months in the trenches before Sebastopol.
2721 Private Samuel Evans was awarded the Victoria Cross for bravery before Sebastopol on the 13th April 1855. It was published in The London Gazette on 23rd June 1857. The citation reads as follows:
For repeatedly volunteering for duties of a hazardous nature in the trenches before Sevastopol on 13th April 1855. In particular, he led a small party which repaired an embrasure at a very exposed part of the line, under heavy and continuous fire.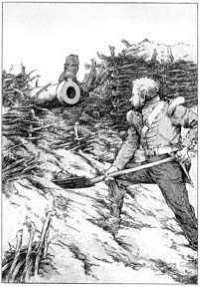 Private Samuel Evans in Action outside the damaged embrasure repairing it under the fire of Russian guns in Sebastopol, 13th April 1855.
He was seriously wounded assaulting the Great Redan on 8th September 1855, sent to Scutari Hospital and then shipped back to England, where he was discharged from the Army at Chatham on 13th May 1856.
He married Margaret McNicholl in Edinburgh in 1856 and got a job as a time-keeper in the city before being offered the job as Lodge Keeper at Holyrood Palace. For a short time he ran a general dealer's business in Dumfries, but, at the age of 67, with increasing ill health, he returned to Edinburgh and lived at 332 Lawnmarket for the last 13 years ofhis life. In 1896, the elderly couple were invited to the Curragh in Ireland to stay with his old Regiment. After his wife died in 1899, he was again invited to stay with the Regiment at Bradford Moor Barracks.
He died on the 4th October 1901, aged 80 years, and buried alongside his wife at Portabello Cemetery, Piershill in Edinburgh. The 1st Battalion The Green Howards, on return from South Africa, had a memorial built to both of them over the grave. Samuel Evans bequeathed his VC and medals to his Regiment to thank them for the kindness shown to him and his wife in their latter days.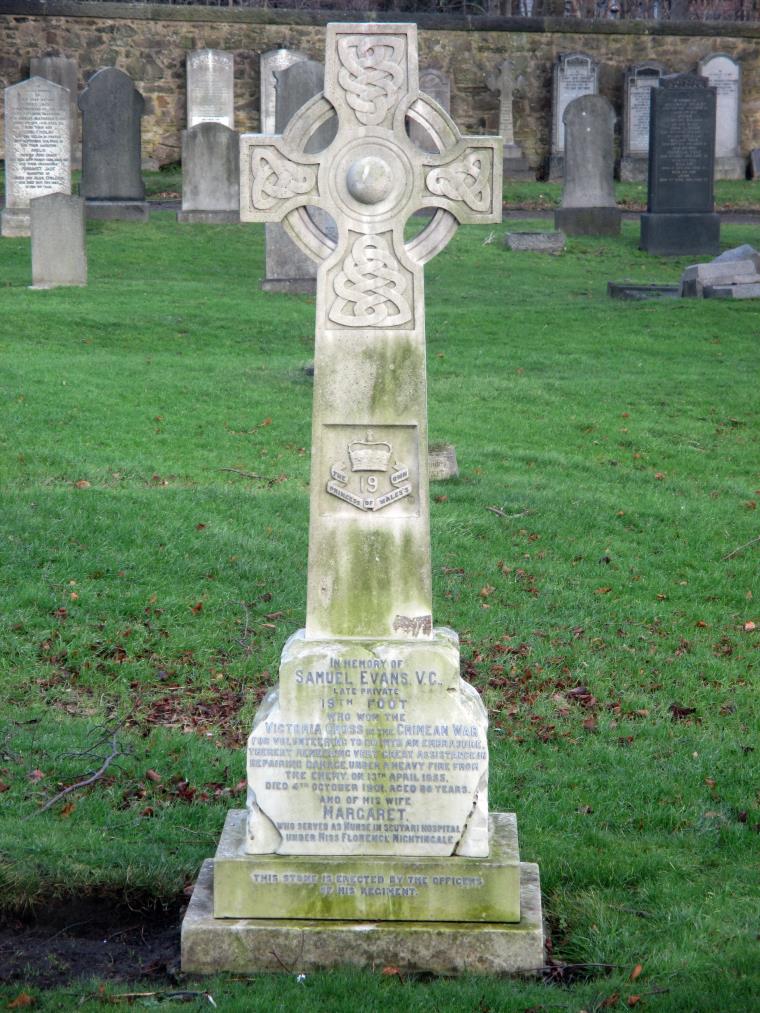 Private Samuel Evans Grave at Portabello Cemetery, Piershill in Edinburgh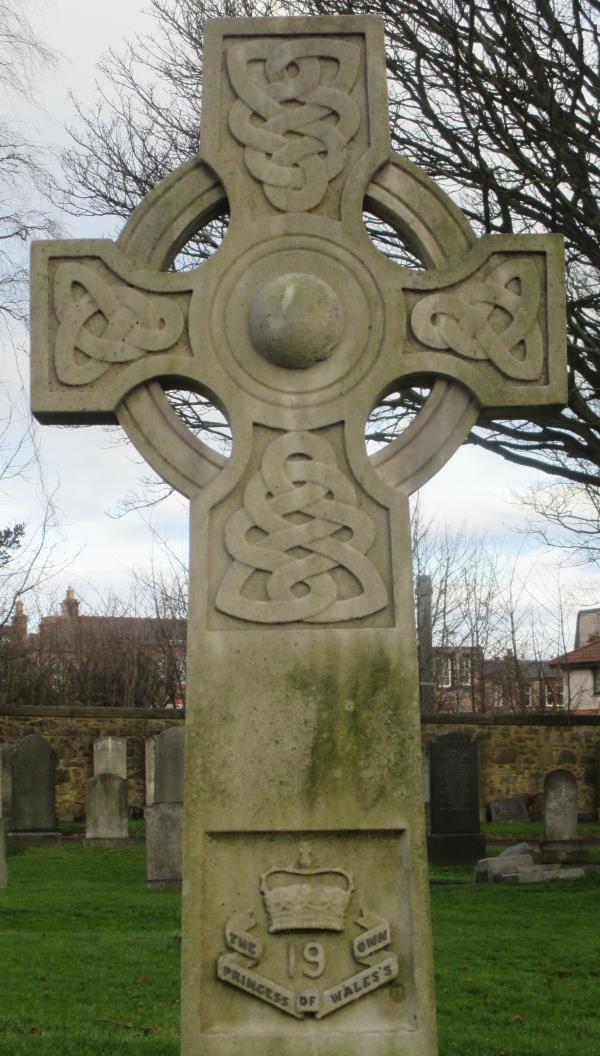 Private Samuel Evans Grave cross

Private Samuel Evans Grave inscription

IN MEMORY OF
SAMUEL EVANS, V.C.,
LATE PRIVATE
19th FOOT
WHO WON THE
VICTORIA CRSSS IN THE CRIMEAN WAR
FOR VOLUNTEERING TO GO INTO AN EMBRASURE
THEREBY RENDERING VERY GREAT ASSISTANCE IN
REPAIRING DAMAGE, UNDER A HEAVY FIRE FROM
THE ENEMY ON 13TH APRIL 1855.
DIED 4TH OCTOBER 1901, AGED 80 YEARS.
AND OF HIS WIFE
MARGARET
WHO SERVED AS NURSE IN SCUTARI HOSPITAL
UNDER MISS FLORENCE NIGHTINGALE

THIS STONE IS ERECTED BY THE OFFICERS
OF HIS REGIMENT